Drooping or sagging skin around the eyes can interfere with your vision and affect your appearance. New Century Ophthalmology in Raleigh and Oxford, NC, can remove this excess skin with a surgical procedure. Dr. Vinod Jindal is a board-certified ophthalmologist.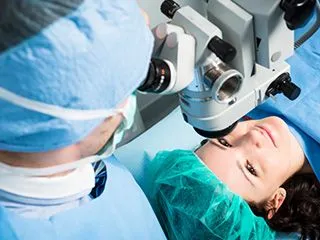 Types of Eyelid Surgery
Eyelid surgery is an effective way to remove excess skin around the eyes. While eyelid surgery typically removes skin from the upper eyelids, it is also performed on the lower eyelids.
Most people seeking eyelid surgery are over 35, but younger patients may also benefit from surgical procedures. Eyelid surgeries are handled at our outpatient surgical center.
Blepharoplasty
Blepharoplasty is a surgical procedure that removes skin from the upper eyelid. Although it's often described as an eyelid lift, the process doesn't involve pulling up the skin around the eyelid. Instead, excess or drooping skin is removed from the eyelids to enhance their appearance.
During this procedure, removing bags around the eyes is possible. In addition, fat can be added or removed from your eyelids, improving the appearance of your eyes. Dr. Vinod Jindal will discuss your expectations and preferences before the procedure.
Lower Eyelid Surgery
Fat around the eye sockets protects our eyes from damage. Although, that fat may push over as you age, leading to puffiness or making your eyes look tired. This surgical procedure can remove extra skin, rejuvenating the eyelids.
Benefits of Eyelid Surgery
The eyes are one of the first parts of the face to show signs of aging. As we grow older, the muscles that support our eyelids become weaker. This weakness can cause fat and skin to gather around your upper and lower eyelids. It can lead to drooping skin, eyelid bags, and eyebrow sag.
Not only can this sagging skin change your appearance, but it can also limit your vision. When you have excess skin around the eye, it can block your visual field, reducing your peripheral vision. After eyelid surgery, your eyes will look more alert, and you'll find it easier to see clearly.
Schedule a Consultation with Our Ophthalmologist
If excess skin around the eyes frustrates you and you have considered an eyelid lift, contact New Century Ophthalmology. We have locations in Raleigh and Oxford, NC, and have performed eyelid surgery on many patients. Before your surgery, you'll need to schedule an initial consultation to determine if you're a candidate for eyelid surgery. Call our office at Raleigh (919) 861-4494 or Oxford (919) 693-6661 to schedule an appointment.